SMO Agency India : LOOKING MORE CUSTOMERS?
SMO (Social media Optimization) is an effective strategy where the brands will interact with the customers through the valuable content they post daily. Owning a website is not enough to gain online presence because most of the people can be found on social media sites like Facebook, YouTube, Myspace and others have been the main target of many marketers today because of the population of the sites. That if marketers will be able to penetrate the thick barrier of social media sites in raising brands awareness, marketers are guaranteed that there will be lots of conversions.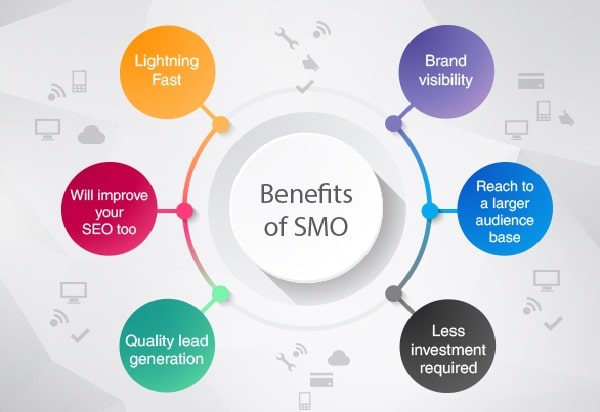 SMO Agency India LET BRAND COMMUNICATE WITH PUBLIC, THROUGH SOCIAL MEDIA
Through SMO Agency India are offering to their clients, marketers will be able to get more sales and find customers that they did not know that exist (and would probably buy products from the website). Though signing up to social media sites is free, managing the accounts as well as the content distributed to fellow social channels users is very tricky. Marketers can't just post content because they want it, because there's a practice and schedule that has to be followed to make it effective.
Keep in mind that social media marketing will only be effective if the people behind it would be from a Best SMO Agency India.

Build A Better Online Presence
So how can brands lead people to visit the website? That is simple, through Digital marketing that most India's #1 Social Media Company offers to help businesses gain customer engagement and generate web traffic.

Get More Visibility Online
It is important that there's a Best Internet Marketing Agency India that will look after the accounts so that customers who will be engaging themselves to the social media page will be able to see fresh content daily. And in case that there are concerns they want to raise, there is someone who will address the concerns.

Call To Action
So whenever businesses look for a SMO Company India or Company for effective online marketing, it is best to see first their company portfolio and track records to ensure small and big business owners will be able to get the SMO Company India or Company India businessmen can trust.
Why select Sana IT Solution for SMO Services?
According to India's #1 SMO Agency SANA IT SOLUTION, social media optimization is very important because marketers will be able to see the target market up-close and personal. It allows brands to respond quickly from the rising issues and more connection to the brand because people perceive social media networks as a place to hang out with friends and family, not a marketing machine that generates product discounts and promos.